Finally, Kasabian have made a great album - "Velociraptor!" is their finest work to date.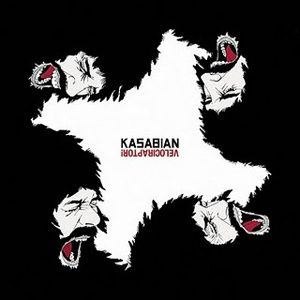 "Velociraptor!" is Kasabian's fourth album, and was released last October, just over five months ago. Kasabian have been around for a while now, they're an established British band who have found the respect of the British public and have tried to break out to the States, with unfortunately little success. For me and a lot of people I know, Kasabian have been one of those bands who produce quality singles but their album material never keep up. Does "Velociraptor!" follow the same pattern? Here's my take on the album.
The album starts off with "Let's Roll Just Like We Used to", a great opener, it's catchy and full of the material that makes Kasabian one of the better indie bands in recent times. Tom Meighan's Leicester accent has always been the thing that make Kasabian stand out from the rest of the indie crowd, and it's prominent in this opening to the album.
The first single off the album is the second track, "Days Are Forgotten", which is a pretty damn cool track. I love the howling in the beginning of the track and as the choruses fade out. The song was also used on WWE's Pay-Per-View "Tables Ladders and Chairs", which was cool, being a wrestling fan, and it was also great to see Kasabian get some exposure over in America. "Days Are Forgotten" is not as good as some of the other singles in Kasabian's library but it still holds its own amongst them. It's a very good track.
Track three is also the third single off the album, "Goodbye Kiss", which, in my opinion, is easily one of Kasabian's weakest singles in their catalogue. Kasabian as I've said a few times produce fantastic singles, and they're usually very catchy. This song is different from most of their singles, as it's a slower, more bitter romantic track, something they don't do too often. This song was also used in the montage for Formula 1 at the end of the 2011 season.
After track three are five brilliant tracks. The middle of this album is fantastic. Track four is "La Fee Verte", possibly my favourite song on the album. It's excellently similar to The Beatles, and it's sung by guitarist Sergio Pizzorno, and his vocals are surprisingly fantastic. I'm not going to pick favourites in terms of vocals on the album, Tom and Sergio both bring different styles to the album and they're both welcome in my opinion. That being said this song is just awesome. It's crafted beautifully and sung so well. I love it.
Track five is the title track, "Velociraptor!", by some distance the shortest track on the album but it packs some excellent punch. It's similar to a lot of their singles actually, although it's a bit more fast paced. I'm surprised this hasn't been released as a single yet. It's catchy, a little funky and just sounds really cool in general. Nothing more really needs to be said about it really!
The sixth track, "Acid Turkish Bath" is also sung by the guitarist Sergio and once again it's another well sung, well balanced track. But this time the vocals aren't what makes the song, it's the drums and the violin. This song for me shows the band expanding their horizons a little. Kasabian use an orchestra and this is the first track on the album where you can definitely here it. I really like this song and it's one of my favourites on the album again. Track seven is "I Hear Voices", which sounds good for the most part, but the one thing I really dislike about it is the frustrating new indie/modern new wave electronic music that they've decided to put in the song. It's a personal pet peeve, but I hate this new indie/electronica hybrid that's been around recently, like MGMT and Foster the People. That sound is a sound that I really hate, and to see Kasabian use it annoyed me slightly. But the song otherwise is really good, I like the chorus a lot.
After that is the second single off the album "Re-wired", which is fine. All three singles on this album are quite good but they pale in comparison to some of the stuff they've released in the past 9 years. "Re-wired" sounds good on this album, but when you compare it to some of the great tracks Kasabian have released as singles in the past, like "Empire", "Club Foot" and "Fire", it just doesn't sound like it's on the same level.
But the rest of the album keeps up with these singles very well. "Velociraptor!" the album, is great. I've already said that some of my favourite tracks on this album are the non-singles, and it's true. Because the singles aren't as good as the older material, yet the album quality is much better, the album is overall a very balanced piece of music. It's a strange situation, but the singles lacking in quality a little makes the rest of the album stand out, which is great. This album is critically Kasabian's best work. I'm not the only person who has said this, many critics have and it's true. "Velociraptor!" is their finest work to date.
The rest of the album drops the quality down a little notch, but the best of the three end tracks is the penultimate track, "Switchblade Smiles", which has been used on the new FIFA 12 game (and also part of my "Best of FIFA Trax Mixtape, you can read that here), as well as on Match of the Day 2. This is the most electronic Kasabian have become, and it's not in an annoying indietronica/modern new wave way like in "I Hear Voices", it really kicks ass with the electronic guitars and the electronica music. It's almost Muse-esque, which is a compliment I swear.
Overall "Velociraptor!" is a great album. I thoroughly enjoyed it. It's by far Kasabian's best effort and the album songs are good tracks and support the singles well. It's a balanced album, that tries new things while keeps the elements that make Kasabian stand out a little from all the other indie bands. "Velociraptor!" is Kasabian's finest work to date and well worth a listen if you enjoy Kasabian's singles by norm, and want to get one of their albums. Kasabian usually fail to deliver the goods on their albums, but they've proved me and a lot of other critics wrong. "Velociraptor!" is a cracker of an album, and well worth the risk if you're thinking of purchasing their album.
Rating: ****1/4 stars
Stand out tracks: "La Fee Verte", "Velociraptor!", "Acid Turkish Bath"
Here's the music video for the first single, "Days Are Forgotten":
For the latest updates on my work, 'like' me on Facebook here!