Hidie hi. We're 10 out of 50 games through my Top 50 Favourite Mega Drive games. Let's get straight to it with the next batch!
#40 – Zombies Ate My Neighbors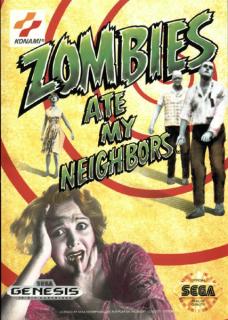 Released: 1993 (1994 in the UK)
Genre: Action
Rating: ***3/4
Best Moment: Nothing particularly, it's just a fun game and avoiding those zombies for as long as possible is a great hook.
This game is a cult classic; it wasn't that popular when it came out. I didn't play it for a while even after getting my Mega Drive but it's a damn good game; it's very entertaining and its simple concept works wonders really, shoot the zombies, avoid getting hit. One of the best things about the game for me is the difficulty; they have it spot on, with the game starting off very easily and it gets steadily harder from then on. This game is still more than playable today, so give it a go if you haven't played it before, I doubt you'll be disappointed.
#39 - Sylvester and Tweety in Cagey Capers
Released: 1993 (1994 in the UK)
Genre: Platformer
Rating: ***3/4
Best Moment: This game was quite hard, so catching Tweety at the end of a level makes all the frustrations worth it.
I don't know that many people that have played this game. I can't even remember how I found it, I may have borrowed it from a friend but I can't be sure. What I do remember is grinding through its difficulty and getting very far in it. Basically you're Sylvester and you simply have to catch Tweety. But the levels are long and Tweety teases you throughout the level with opportunities to catch him but you're always unsuccessful until right at the end... when he runs away again. It was a very entertaining game, very hard but entertaining enough and definitely worth a crack at if you've never played it before.
#38 – Flicky
Released: 1991
Genre: Action
Rating: ***3/4
Best Moment: Getting all of the birds in one go flawlessly. Nothing can beat it, and it get so hard to do that quite early on in honesty and becomes almost impossible later!
Flicky is often considered a really annoying game, mainly for its one song throughout the game which is very squeaky and loud in sound. But what people need to remember is that this game actually came out in 1984 originally, not 1991. The early eighties were full of games with only one song and simple game play. And you know what? This game was still great enough in 1991, 7 years later. And a lot happened in those 7 years in video game history, and for a game of that era to still be more than playable on the Mega Drive shows you how good it was. So think about that if you do take a distaste to this game, because it's still a very good game, even by Mega Drive's standards.
#37 – Taz in Escape from Mars
Released: 1994
Genre: Action
Rating: ***3/4
Best Moment: Just holding onto the action button and making Taz spin over and over again is fun, especially when you build enough momentum to go up walls.
Taz in Escape from Mars is a great game, it's quite hard as well mind, but the difficulty is tolerable enough to make the game entertaining. Playing as Taz is a lot of fun as his spin is just a great weapon and also used in a variety of other ways too. Another great thing about Taz is that he just eats everything and anything in front of him, for good or bad. The animations for Taz are fantastic and look just as good as Taz does on the cartoons. This game if you haven't played it before is worth a spin... no pun intended!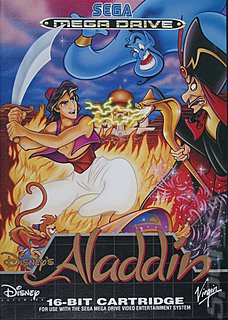 Released: 1993
Genre: Platformer
Rating: ***3/4
Best Moment: Sounds weird saying it but dying. I love the dying animation in Aladdin, it's one of the funniest death animations in video game history, or at least, it felt like it was back when the game came out!
Aladdin is a great platformer, the music is just spot on from the film and it stands out from other platformers because it plays very differently. Controlling Aladdin feels a little uneasy at first and fighting with him even more so, but once you get the hang of it the experience Aladdin brings to the table is great. The graphics are splendid and the humour throughout the game is just awesome. You just simply have to play this game if you're a fan of the film, it does complete justice.
#35 - Alex Kidd in the Enchanted Castle
Released: 1989 (1990 in the UK)
Genre: Platformer
Rating: ***3/4
Best Moment: Honestly, landing a jumping kick! It's a really hard technique and often leads to your death, so when you land it it's actually quite satisfying.
Alex Kidd, what a game... a game full of agro, irritation and frustration, but overall, it's also a very good platformer. The ideas are there and for the most part the game is actually quite fun. But the one-touch death, the sometimes annoying music and some of the timing being harshly out of your favour can get to you. Alex Kidd was once the mascot of Sega before Sonic came along. It's funny but it's true, but now Alex Kidd is a bit of a punchline due to the game being rather cheesy and hard at the same time. But don't take away the good points; this game is still very good.
Released: 1996
Genre: Platformer
Rating: ****
Best Moment: Getting all the Flickies in one go through the hoop. It's not always that hard but it's still satisfying to get the full multiplier.
The first Sonic game to make the Top 50... you'd be stupid to think it'd be the last! Sonic 3D is a mixed bag. Firstly, it's not 3D, and that's been something that fans have taken the piss out of many a time. It's an isometric 2D platformer set at a 3D angle. But this game gets a lot of criticism and most of it stems from the false advertisement of 3D gaming. But take that fib out of the equation and what you have here is a very unique Sonic experience. It's actually a solid game; the addition of Flickies was a nice touch and the music is just top notch. The music in Sonic 3D is some of the finest in video game history in honesty. The Special Stages were a tad too easy and too similar to those in Sonic 2 but overall this game is really good, better than it gets credit for.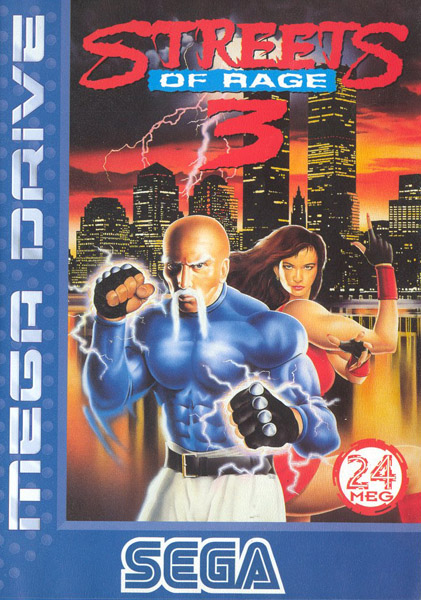 Released: 1994
Genre: Beat 'em Up
Rating: ****
Best Moment: The huge relief of satisfaction when you finally beat Mona and Lisa. In my honest opinion, there's never been a harder boss in all three Streets of Rage games.
Streets of Rage 3 is so hard. It's one of the hardest games on the Mega Drive, that's a given. It's far harder than the first two, which I can complete with my eyes closed. I've never legitimately beat Streets of Rage 3 without cheating, and Easy mode doesn't count as you don't get the full game. I take nothing away from SoR3 in the respect that it's a great game, but it's huge difficulty increase puts me off playing it over the other two. The improvements are great; the moves are better and more complex, the music is as solid as the other two games and the storyline progress through the levels are all fantastic. But... it's just too hard! It's still a great game though.
#32 - Ayrton Senna's Super Monaco GP II
Released: 1992
Genre: Racing
Rating: ****
Best Moment: Just winning a race. It can sometimes be difficult, leading a race, then staying consistent throughout the course lap after lap. It's nice when your game plan comes together.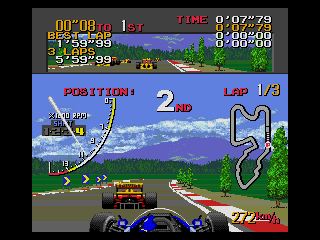 Super Monaco GP II was a great racing game. It improved in every way over the original, but I just prefer the original's races and format of the Tournament mode. But I'm not taking anything away from this sequel and the addition of such a legendary name in the sport as Ayrton Senna boosts its credibility immensely. Taking Senna on is also quite cool, as he was simply a phenomenal F1 driver in his time, and for him to have his own game is quite cool. And it's a great game, if I were to recommend you play SM GP 1 or 2 it'd have to be this one, because in honesty it's pure nostalgia and preference that I like the first one more.
#31 – Lemmings
Released: 1992
Genre: Puzzle
Rating: ****
Best Moment: Making sure every Lemming that can survive, does survive. It's the ultimate compliment, especially with the later levels. You feel bad enough killing off the ones that have to die never mind ones that don't!
Ah... Lemmings. What a game that was. There are few games that were released at the right place at the right time, that deserve more relevance today but just don't fit in a modern gaming era. Lemmings was just awesome. Watching all of your Lemmings work their arses off, doing the jobs that you grant them to do, working so well as a team is just so cool. You almost have sentimental feelings for each and every one, even give them all names... okay maybe not that far, but still, you just feel so bad when you have to kill them off. You want them all to survive each level – none of them deserve any other fate than to make it through each level alive. And it's so tragic when you kill off ones that could have made it!

Continue reading the listing!

For the latest updates on my work, follow me on Facebook and Twitter here

!