Hey there and thanks for joining me for my first football article in three and a half months. Things are a little different for this article though, I'm not going to talk about Liverpool. No I'm not talking about England either. I'm going to talk about Chelsea.
Unless you've lived under a rock (or, are not a football fan and if that's the case why are you even reading this?) you might have heard that Chelsea manager Andre Villas Boas was sacked yesterday. Some have said it was justified. I mean, since Roman Abramovich has come in with his billions of pounds, no manager has had a worse percentage win rate or a worse points-per-game rate. He managed the team for 40 games, and only won half of them. Not since Glen Hoddle, sixteen years ago, has in fact done worse than Villas Boas. But they never built Rome in a day, and if Roman Abramovich wants to build a dynasty, he needs to have a long-term plan.
Villas Boas was perfect for Chelsea. It's probably quite a controversial thing to say, but it's my humble opinion that this was so. Why? Chelsea needed a young, fresh mind. Villas Boas was seen as a 'new Mourinho', a Portugese mastermind with a keen eye for tactics. He did wonders at Porto, and is an exceptionally young manager at the age of 34; Henrique Hilario is two years older, Paulo Ferreira, Frank Lampard and Didier Drogba, only one year younger. Some could say too young, but I'm of the opinion that it doesn't matter how young or old a manager is, all that matters is that they're a strong character and can back up their skills with style.
Andre Villas Boas.
And Villas Boas did just that. For a man of 34, he had balls. He did, truly. When criticised on Match of the Day, or by other pundits, he'd actually call them out and tell them where to go. He was a frank man; always spoke his mind and was vocal in a way a leader should be. I really liked Villas Boas, and I'm a Liverpool fan, as I'm sure many of you are aware. He was deep in the thick of it and while he did struggle to swim against the tide, he gave it his best shot.
As I said, he's 34 years old, and was put in that job for one reason – long-term success. If you put a manager at a football club for long term success you have to realise that you're going to struggle short term because of it. It's impossible to build a house without creating your base. Andre Villas Boas was entering a Chelsea team that was in the middle of transition, a team that still IS in the middle of transition. The old guard are getting older; Petr Cech and Jose Bosingwa are 29, John Terry, and Ashley Cole are 31 and Frank Lampard is 34. And this is the most chosen starting 11 for Chelsea this season. This is the starting 11 that Villas Boas was looking to, to 'freshen' this aging side.
I'm not saying Villas Boas is faultless in this torrid Chelsea season. He decided to bench Frank Lampard and Didier Drogba a lot, and back instead an inconsistent Ramires and an absolutely atrocious Fernando Torres. This has been difficult for Villas Boas, I mean, it says something that 33 year old Frank Lampard has scored more goals for Chelsea than any other player this season. He is still required; it's as simple as that. But when you have a Drogba that's a shadow of his former self, looking backwards instead of forwards, also at the age of 33 but your £50 million striker just can't score, what else can you do?
The 'old guard' aren't getting any younger.
The Fernando Torres situation is difficult for Chelsea and was for Villas Boas. Obviously from a biased Liverpool perspective it's great, we got £50 million big ones and got Luis Suarez and Andy Carroll, who are looking better and better as the season is going on. But if I'm being unbiased here, Torres-gate is awful for Chelsea. To spend such a big amount of money on a player, and he just can't score is terrible. What can you do in a situation like that? Sell him? It's not as easy as that. With him not scoring he's not going to be sold for a decent price. Also, we all know that Torres, when motivated, when on form, can be the deadliest striker in the world. I mean that by the way, and that's not me being a biased fan.
Villas Boas was trying to freshen things up. He bought 20 year old Oriol Romeu, 18-year-old Romelu Lukaku and the excellent 23-year-old Juan Mata, while selling 29 year old Alex and 32-year-old Nicolas Anelka. The age of the squad was definitely getting younger. And the old guard all got a chance; they've all played games this season, with mixed results. It's not as if Drogba and Petr Cech have had stellar seasons. It was a tough job for him. It's a tough ask for anybody, you can't inherit say that Villas Boas was the reason everything went wrong, just like you can't say that Jose Mourinho was the main reason Chelsea did so well. Mourinho came to Chelsea in 2004 and won the title that season. Well done Mourinho. But seven of the eleven were players he inherited by Claudio Ranieri. Here's the squad:
Cech
Ferreria
Carvalho
Terry
Gallas
Makalele
Tiago
Lampard
Cole
Duff
Gudjohnsen
There's the 7 players inherited from the team left by Ranieri. And then Mourinho continued to lay more foundations onto this team, and they were the best team in England for a good few years. But then Manchester United, and Alex Ferguson kept renewing his squad, and took the mantle again. It's no coincidence. If you want to look at building football dynasties all you have to do is look at Manchester United now, and Liverpool in the eighties. Year and years of one step backwards, two steps forward. But Abramovich will never let his managers take that second step forward, apart from Mourinho, who was a very special manager, and also inherited the nucleus of an excellent squad.
Kenny Dalglish and Bob Paisley are two of Liverpool's most successful managers, but history says if it wasn't for Bill Shankly, they wouldn't have inherited world beating squads. Alex Ferguson has continuously shed his squad's skin, to make them a world force for the past 25 years. His longevity as manager, as well as the patience shown by the 'powers that be' in the United hierarchy, gives him the patience and time to rebuild his squad again and again. United sucked at certain times in the past 25 years. In fact, they sucked in the late eighties. But Ferguson being one of the best managers in world football even 25 years ago, along with the patience and time given there, and the collapse of Liverpool, meant that Ferguson has rarely looked back since winning his first title back in 1993. United weren't very good from 2003 to 2007. But as I said, Ferguson shed the skin of the squad, got in some fresh youth and good buys, combined that with the good of what he still had, and then became a great force again.
So, I don't really blame Villas Boas. You have some very strong personalities in that squad, a strong set of older players who can't take it they're slowly starting to get past their best, and would rather they stay in that squad, with their big salaries and even bigger egos, than accept that it may be time to move on, and let the youngsters have a go. They're too afraid of their positions in their squad, and the money they earn, that they'd rather sacrifice their manager than their positions in the team. Look at Jamie Carragher. Is he happy to be on the bench? No, but he's not complaining about it. Frank Lampard has been scoring goals, so it is a slightly different situation, but at the same time the principle is there.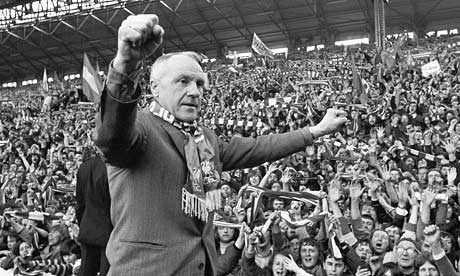 Bill Shankley built a dynasty. He'd have no chance under Abramovich.
But the person at fault the most is Roman Abramovich. How is a manager supposed to operate a team if the owner doesn't place the trust in him, and instead of the rebellious players? The players control the dressing room, and it's not right. And when they get taken down a notch, they complain to the owner, who takes their side. How long must the older players be selfish before the managers don't want to take the chance and manage Chelsea? It's pathetic.
Abramovich has quite a lot of models to take inspiration from. In the past you have Liverpool. The 1960s Shankly built the base. In the 1970s and 1980s Bob Paisley, Joe Fagan and Kenny Dalglish built the dynasty. In the present, you have Manchester United, and in the 1990s and 2000s Alex Ferguson has made his base, built his dynasty and maintained it.
And for the future? Well, who can predict it, but at the moment you can look at Manchester City. Yes City have more money than Chelsea do, but it's comparing a billionaire to a billionaire in the end of the day. But under City, Roberto Mancini has built a base. If they win the league or not this season, they're currently building their dynasty. Mancini started by taking the reins from Mark Hughes, finishing 5th in 2010 and getting to the semi finals of the Carling Cup, then 3rd last season and winning the FA Cup. This season at the moment they're top of the league. As I said even if they don't win the league chances are they'll be mighty close to the champions, where as they finished 9 points adrift last season. Of course all of this could be pointless if the Sheiks at City sack Mancini if he 'fails' and doesn't win the league, but I just feel the Sheiks seem to have more patience, much more. Mancini could have been sacked once or twice so far, so it seems like he's given more time there than any Chelsea manager gets from Abramovich.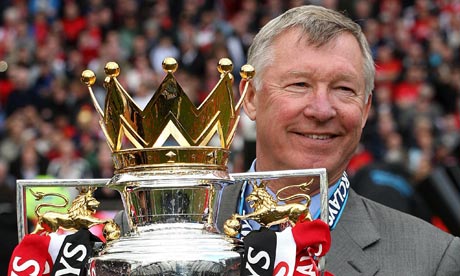 Like it or not, but Alex Ferguson didn't just build a dynasty, he's maintained it.
In the end, history is there to show that long term planning usually means better prospects. Newcastle sacked loads of managers and have been relegated and promoted for that. Liverpool are evidence that long term planning is usually the way, so are Manchester United. Arsenal and Everton have long term managers and have had mixed results, but mixed to exceptionally positive results at that; Arsenal were once The Invincibles, not to mention that at one point Everton got 4th place and a Champions League spot under David Moyes. Roman Abramovich really needs to be patient. Andre Villas Boas could have been something 'special' at Chelsea, but he never was going to be short term, not with that dressing room. The next manager really needs to get rid of some of those troublemakers and hope to god that the signings they make are instant successes, like Mourinho's were in 2005. Otherwise it looks like Chelsea will continue to struggle to stay at the top of the English league pyramid. Which is fine for me; as it means Liverpool have more chance of building success. But from an unbiased perspective, it's bad for Chelsea.
Do you agree? Disagree? Should Villas Boas have been sacked? Let me know your thoughts by commenting below. Thanks for reading.
For the latest updates on my work, 'like' me on Facebook her

e!