Hey everyone, welcome to the first edition in a series of reviews I'll be doing on music on a yearly basis. I covered the entire of the Naughties in a 6 month epic saga that ended with me counting down what I thought the 100 most important songs are. This will be done in a completely different style to that series. I might do a similar thing at the end of the nineties where I countdown my favourite 100 and what I think the 100 most memorable (refraining from using the word important) songs are, but at the moment I'm just concentrating on one year at a time.
This will be done in five parts. I'll do a brief history of what happened in that year, followed by my five favourite albums of the year, then what I think the five best videos are. I'll then do a Top 10 most impactful (still refraining from using the word important) songs from that year. To wrap it up, I'll do my favourite songs in a mixtape format. So now that you know where I'm going with this, let's get to it!
Brief History of the Year 1999 in Music
Eminem releases his official debut album "The Slim Shady LP" (he released an EP with the same title two years prior), starting his rise as one of the brightest young hip hop artists.
The Columbine High School massacre happened. Industrial metal artists Marilyn Manson, Rammstein and KMFDM were blamed for the massacre, although there was no evidence suppporting this.
The Red Hot Chili Peppers release "Californication", which went on to sell over 13 million copies.
Slipknot release their self titled debut album, starting a career as one of the most popular heavy metal artists of the next decade.
Limp Bizkit release "Significant Other" which sold over 14 million sales worldwide.
Glam rock star Gary Glitter is jailed for four months for downloading pornographic images of children.
My Top 5 Albums of 1999
#5 - "Showbiz" by Muse
Released: 4/10/99
Rating: **** stars
Stand-out tracks: "Showbiz", "Fillip", "Muscle Museum"
Muse's debut album was a solid yet barely ground-breaking effort. Every song on the album is decent, and I could put this album on and play it and barely notice it's presence. I sound like I'm dissing it but I'm not. It's very good. It's just that nothing really stands out, it's barely inspiring. But as I said, it's solid, Muse would go on to become one of the best British bands of the next decade. And if it wasn't for these songs, Muse wouldn't have got there. This mini review is actually making want to listen to it again, in the background while I do something else. Because as I said, it's a great album for something like that.
#4 - "Hooray for Boobies" by Bloodhound Gang
Released: 4/10/99
Rating: ****1/4 stars
Stand-out tracks: "Mope", "The Inevitable Return of the Great White Dope", "Yummy Down on This"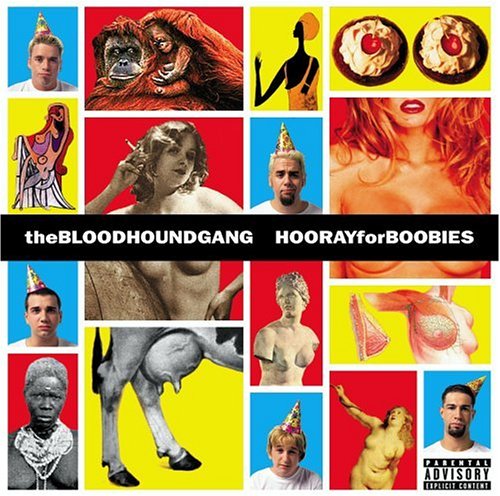 Released on the same day as "Showbiz" above, this awesome album came out. It's definitely my favourite album by the group. I was taken aback by how good it was, as the singles that were released were okay yet not fantastic (in my opinion). But there's some great rap/rock tracks on here, and some funny shit as well. It's toilet humour at best, yet they do it with enough dignity that makes it quite fun. If you don't like your music crude, then avoid this album. But if you liked this genre of music that the end part of the nineties brought you, then seriously, give this a go. It's great.
#3 - "The Battle of Los Angeles" by Rage Against the Machine

Released: 2/11/99
Rating: ****1/4 stars
Stand-out tracks: "Born of a Broken Man", "Calm Like a Bomb", "Guerrilla Radio"
Look at that. The Battle of Los Angeles album has a guy
fist pumping
to his death as the cover. Awesome stuff. Anyway, this album is actually my favourite by Rage Against the Machine. From start to finish, I think it just sounds great. The problem with Rage is that their songs sound quite similar (although their sound is innovative and there's not a single band out there like them) but I find this to be the most diverse. Also both the singles and album tracks are great. My favourite is definitely "Born of a Broken Man", I just love the guitar, the quite yet angry way Zach de la Rocha sings yet somehow sounds like he's gritting his teeth his awesome. Trivia for you, Saul Williams samples this in his song "Om Nia Merican" off his "Amethyst Rock Star" album. Anyway it's just a great album, my favourite.
#2 - "Tight" by Mindless Self Indulgence

Released: 6/4/99
Rating: ****1/2 stars
Stand-out tracks: "Bring the Pain", "Tight", "Pussy All Night"
Mindless Self Indulgence's official debut album is still my favourite. I mean, they're all excellent (if, very similar) but this one trumps the rest if only slightly. I just love their raw energy, their complete innovation, their ability to just crank up random songs with punk, rap, electronic, and industrial metal all into 120 seconds of pure bliss. "Bring the Pain" is one of my favourite cover versions of all time, it's very difficult to do a cover, but doing a completely different genre of music and twisting it into yours AND trumping it, is a feat not many artists can claim to have done. "Bring the Pain", originally sung by Method Man of the Wu-Tang Clan, is arguably more famous by this band now. "Tight" is another belter, with it's fantastically cool guitars and Little Jimmy Urine's unique vocals. It's just a brilliant album, one that I'd recommend you get if you've never heard this weird and wonderful band.
#1 - "The Fragile" by Nine Inch Nails

Released: 21/9/99
Rating: ****1/2 stars
Stand-out tracks: "I'm Looking Forward to Joining You, Finally", "Just Like You Imagined", "
Starfuckers, Inc."
My #1 album of 1999 is probably unsurprisingly by my favourite band, Nine Inch Nails. "The Fragile", while not Trent Reznor's best effort, was an incredible masterpiece, a depressing and angry 23 song concept that really pulls on the heartstrings at times. It's a concept album about being at your lowest ebb and trying and failing to get better. That's the story of the album. But don't let that put you off, what's important is how Trent tells you this story through music. The composition of songs is incredible, there's some really good stuff on this album, some lovely, tranquil tracks like "La Mer" and "The Day the World Went Away", there's some cool shit like "Please" and "Into the Void" and there's some kickass metal tracks like "Starfuckers, Inc." and "No You Don't". It's a heavy album, and it's also a very long album at over 100 minutes (in comparison, "Tight" above is only around 30 minutes), and it's definitely not the NIN album I'd recommend you listen to first. But if you like NIN, like concept albums, like music done artistically and differently, then this is a must. It's just one of those albums that has a place in music history on a platform on its own. Because no album is like it, but it's too important to be ignored.
My Top 5 Music Videos of 1999
#5 - "Coma White" by Marilyn Manson
This is one of my favourite Manson videos, and songs for that matter. It just shows a different side to Manson that not many people see, and while his voice isn't commercially considered great, this is one of his best songs in terms of showing that he can sing. The video, a twisted version of the assassination of John F. Kennedy, features Rose McGowan, his then girlfriend. It's just a beautifully dark video, arguably one of Manson's finest moments in his now dwindled career.
#4 - "Learn to Fly" by Foo Fighters
Arguably one of the funniest videos of all time, the Foo Fighters board a plane which has many passengers played by themselves but cross dressing (and not for the first time). It features the great duo Jack Black and Kyle Gass from Tenacious D, who accidentally drug everyone's coffee, which makes everyone fall asleep, including the pilot. The band, who decided to drink alcohol instead, manage to land the plane safely. It's just a very funny video, probably my favourite moment being when the pilot receives his coffee, pauses, and then says "thank you", and winks. It's just a moment of awesomeness.
#3 - "We're in This Together" by Nine Inch Nails
Not particularly one of my favourite NIN singles, but this video always brings me back to my childhood. Funnily, I discovered NIN properly a good eight or nine years ago, but I remember quite vividly watching this video back in 1999, although it felt like it was much earlier than that (which is scientifically impossible I know). I saw this video, thought it was cool but I didn't know who the band was or anything. But the video is great, it shows loads of people, one being Trent Reznor, all running away from 'something'. For some reason everyone is wearing a black shirt and black trousers. In the end whatever that 'something' is catches them, and everyone disappears, leaving Trent on his own. All that remains is everyone's black clothes, just lying there, desolately in the ground. It's a powerful video, one that makes the song much deeper in context and adds layers to one of the tracks from "The Fragile" that ironically, seems to lack the support other songs do.
#2 - "Freak on a Leash" by KoRn
This Grammy award winning video is just excellent. It mixes animation and live footage. The beginning is animation, where a bunch of kids are playing hopskotch near an edge of a cliff where a policeman accidentally falls and his gun triggers a bullet. It then turns into live footage, of a poster with this cartoon scene occurs and a bullet pierces the poster and starts tearing through anything and everything in it's path, regardless of it being capable of doing it in real life or not. It goes through walls, glass, but more artistically, it goes through squirty cream cans and a large water container. The idea is unrealistic, yet it looks so good when it's happening. Eventually the bullet goes through a wall where the band are playing, and the lead singer Jonathan Davis somehow gets this bullet to stop it's surge and retreat back to where it came from. It then arrives back into the poster, and into the policeman's hand, thankfully not killing any of the children. It just looks so much better than to describe it in this paragraph, have a look above if you haven't seen it before.
#1 - "Coffee and TV" by Blur
In at #1 is one of the best music videos of all time. I hold that statement very seriously. It's just a brilliant video. If you haven't seen it before, it would be criminal to avoid watching it above. And don't worry, it's not controversial in any way, it will appeal to most if not all audiences.
The video is about Milky, a milk carton, who has a missing person (Graham Coxon) printed on his design. He finds that other milk cartons also have his face on them and sees the family deeply upset about this man becoming a missing person and decides to go out into the world and find him himself. On his travels he finds loads of things that are dangerous and almost kill him, like a dog and a garden strimmer, and evil bottles of pop (which, of course, are also animated). Eventually he finds a female milk carton on the opposite side of the road and they start to approach each other, only for the love of his life to get run over by a passenger's foot. This sends Milky heartbroken and even more scared, that he runs away and ends up finding the missing person on his milk carton. The missing guy picks Milky up and drinks the entire carton, and puts him in the rubbish bin. Milky ends up dying, but develops angel's wings and flies to the heavens, where he joins the female milk carton he fell in love with earlier.
It's just a beautiful video, a truly magnificent one at that. It's such a simple concept, but it's just directed so well and the designs of the milk cartons and the pop bottles and stuff are excellent. It's a true little mini children's movie in honesty, three minutes long, but it's just so great. Seriously, if you haven't seen it before have a look. It's fantastic.
The Top 10 Most Impactful Songs of 1999
As I said, I'm NOT calling it the 'important' list, although it's more than just popularity as well. Anyway, here's the 10 songs of the year. It's an unbiased list.
#10 - "What's My Age Again?" by Blink-182
While Blink-182 will forever be renowned for their #2 hit "All the Small Things", you can argue that this song had a say in that. They were both released off the same album, and this peaked at #17 here in the UK. The video with the band running around nude, the lyrics about grown men not wanting to grow up, it was a huge hit with the teens. It preceded the huge popularity of pop-punk that filled the charts in the early Naughties. It's still played to a decent amount today, and is seen as one of Blink's best songs.
#9 - "Every You and Every Me" by Placebo
I didn't feature much Placebo in the Naughties listing but truth is their memorable songs and significance slightly waned (only slightly) in the last decade. Their popular stuff was really in the late nineties, and this is arguably the last huge song they did. Part of that was it's significance to the great soundtrack to the film "Cruel Intentions" but it's also because the song was so great anyway. It's not the chirpiest or catchiest of songs, but the lyrics are great, so good that it managed to get to #11 in our British charts. It was the third single off their most successful album, "Without You I'm Nothing" which was also a critically acclaimed album, one I recommend you get if you like the sound of Placebo.
#8 - "Pumping on Your Stereo" by Supergrass
As far as I'm concerned, this is the last major Supergrass song (although they released "Moving" afterwards, which got slightly higher in the charts) of their career. It was a quick, simple, easy belter in honesty. It's just so simply catchy, apparently once the band started to get going it only took them 10 minutes to get it all down to what we hear today. It's a shame Supergrass' career dwindled so quickly after the new decade kicked in as they were as big a part of Brit Pop in the mid nineties as anyone really. But some bands just lack longevity, and Supergrass unfortunately was one of them. Here's a fact for you, I once saw Supergrass, they supported the Foo Fighters. I saw the drummer Taylor Hawkins discretely watching the set, bopping, when they were playing. They were good.
#7 - "The Bad Touch" by the Bloodhound Gang
The Bloodhound Gang haven't really had a bigger hit than this one, not in this country anyway. Around the late nineties and early naughties there was a lot of crude lyrical bands who did their music in either a hybrid of rock, rap or punk and there's arguably no better band at it than the Bloodhound Gang. The Bad Touch, most famously for the line "Do it like they do it on the Discovery Channel", was just a huge international hit. It was a great song and the video, albeit odd, was good too.
#6 - "Scar Tissue" by the Red Hot Chili Peppers
The album "Californication" was the beginning of a return to form for the Chili's, it was a huge success. "Scar Tissue" was the first release off the album, and as one of the softest Chili's singles, it was a surprise success. They took a punt releasing this first, instead of the very catchy, heavier "Around the World" which on paper, sounds like the best song to release first off an album. But the risk paid off, it was a fantastic success and the slide guitar in the track is still well thought of as one of the best guitar moments in recent history.
#5 - "Praise You" by Fatboy Slim
Fatboy Slim's fonly #1 hit so far came as a surprise. "The Rockerfella Skank" was the first release off the album, "You've Come a Long Way, Baby" and was a big hit, reaching #6. But Fatboy Slim's rising stars weren't ending there, and "Praise You" was the big climax by Norman Cook. Partly because of the now legendary video, and partly due to it's soft dance beat, "Praise You" appealed to many different people rather than the usual dance music fans. It's arguably Fatboy Slim's biggest moment, although I personally think the efforts were bettered by "Weapon of Choice" a few years later.
#4 - "Coffee and TV" by Blur
We touched on this song earlier as it's featured in the videos section but the song itself was also big. It got to #11, not particularly impressive for Blur who at this point had eight songs hit the Top 5. But this song gets played more than most of those tracks, more than a lot of Blur tracks actually. It's a staple Blur song, a great one at that, and yes you can thank the video for a lot of the success it has had long term, but the song is great too and is well thought of as a great moment in the band's career.
#3 - "Learn to Fly" by the Foo Fighters
Following a similar vein to Blur, with both the great videos and past successes, "Learn to Fly" too wasn't a huge chart hit for the band, getting to #21. But similar as I said to Blur, "Learn to Fly" is played more than most other Foo Fighters songs, especially those ones from the nineties. It was released at a time when the band was starting to grasp their key sound, with a lot of the naughties singles being slightly similar in style, and most definitely in terms of how good the singles sound as individual songs. "Learn to Fly" is arguably the pedestal Dave Grohl and co. used to build their now flourishing success on. I fucking love the Foo Fighters by the way.
#2 - "My Name Is" by Eminem
One of my major criticisms from my Noughtie series was that there is a major lack of Eminem involved. True that. I tried to stay away from rap and dance as much as possible, yet Eminem simply cannot be ignored. Similar to that is this song, it's simply incapable of being ignored. It's not really in my eyes Eminem's finest moment, but man, without this song making the BANG it did, his fantastically accomplished rap career wouldn't have been anywhere as big as it is now. "My NameIs", like the Foos before, based the style of song Eminem has now been rapping for over a decade. It was a huge hit too, getting to #2 in the UK. The song has remained one of Eminem's most popular, and is still played very often today.
#1 - "Freak on a Leash" by KoRn
I have my doubts, I have a hunch this is going to be a controversial call. But for me, the highlight of the year 1999 was this song. "But Johnny, KoRn's song was no where near as successful as Eminem or the others!" True that. But similar to my Noughtie series, this isn't just about chart success. It's also not just about longevity. I just think personally, "Freak on a Leash" did more for metal than "My Name Is" did for rap. "Freak on a Leash" is one of the modern classic metal songs, not many metal songs released since this track have had the long term impact this did. It's a classic now. And it's fricking awesome too, in a biased way. But as I said, this is an unbiased listing, covering rock, metal and alternative genres. And for metal, this song was just huge.
The Year 1999 Mixtape
Just in case you didn't know by now...
"A Mixtape is a playlist of a certain genre, band or era. The list is generally 80 minutes long, the same length of a blank CD, with further recommendations if some of the songs aren't to your taste. Remember kids, downloading is wrong!"
So here we go! My favourite songs from the year 1999. Yes, this is a biased list.
Pumping on Your Stereo - Supergrass
Every You Every Me - Placebo

Learn to Fly - Foo Fighters

Sheep Go to Heaven - Cake

Coffee and TV - Blur

Muscle Museum - Muse
Around the World - Red Hot Chili Peppers
The Bad Touch - Bloodhound Gang
Stop the Rock - Apollo 440
Nookie - Limp Bizkit
Bawitdaba - Kid Rock
Spit it Out - Slipknot
Guerrilla Radio - Rage Against the Machine
Whiskey in the Jar - Metallica

We're in This Together - Nine Inch Nails

The Everlasting Gaze - Smashing Pumpkins
Superbeast - Rob Zombie
When Worlds Collide - Powerman 5000

Freak on a Leash - KoRn

Coma White - Marilyn Manson
And here are the five alternative songs if you don't like some of the above...
And there we go! The year 1999 in review! I hope you've enjoyed this. It's the new format going forward, that I'll be doing on a monthly basis or so. So yes, in September, I'll hopefully be covering the year 1998. Any comments or queries? Raise them below. Also just in case you didn't notice, my lovely wife has made me a Facebook page, so on the top left of this site you can 'like' me on Facebook. Or just click here if you're lazy! On that left hand side there are other ways to contact me and follow me too, like Twitter and Formspring.
I'll be back in a few days with something, not quite sure what I'm doing next actually. I have a lot planned, I'm just not sure what order it'll be posted. See you soon anyway.