Liverpool team: Reina, Kelly, Carragher, Agger, Enrique, Henderson, Lucas, Adam, Downing, Kuyt, Suarez. Subs: Doni, Carroll, Spearing, Maxi, Skrtel, Robinson, Shelvey.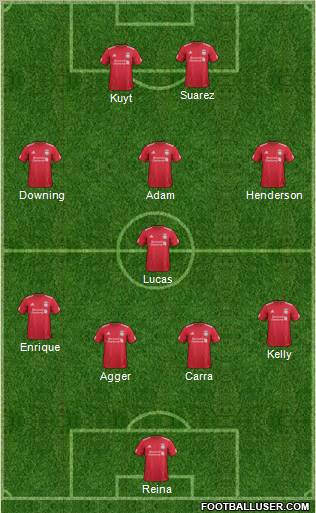 Carroll on the bench twice in a row while Suarez starts twice in a row... I wonder why? Still, it's a strong lineup and I'm sure Carroll can hopefully cause problems late on, similar to Suarez last week against Arsenal.
Bolton lineup: Jaaskelainen, Steinsson, Knight, Cahill, Robinson, Eagles, Muamba, Reo-Coker, Petrov, K Davies, Klasnic. Subs: Bogdan, Wheater, Tuncay, M Davies, Blake, Pratley, Riley
It's a decent side but it's one we should beat on paper. Davies and the on-form Klasnic could pose some threat if we let them, but let's hope Agger and Carra can do their bit.

There's talk of possibly Kuyt playing on the right and Henderson in the middle... so it could be 4-5-1 or 4-4-2. The good thing about Liverpool recently is that we do multiple formations in the match due to Suarez's diversity.

1' - Slow start so far, we're just passing the ball around.

2' - Excellent movement that lets Suarez cut form the centre to the right hand side of the box. Freekick in a dangerous position.

3' - Adam takes it and it hits the wall. Shame.

5' - We go on the attack again and Charlie Adam wins us a corner.

6' - Martin Kelly does a mistake that lets Martin Petrov in for a corner.

7' - Excellent counter attack from the corner lets Stewart Downing almost score. End to end stuff at the moment.

9' - They just showed Fabio Aurellio and Steven Gerrard in the stands in those gray suits. I really dont like the look of them much.

11' - The pace has slowed down a bit with Liverpool taking most of the possession thus far.

14' - GOAL! Jordan Henderson! Stewart Downing whips in a lovely shot that was blocked but then Henderson gets the ball on the inside of the corner of the penalty box and smacks in an unstoppable shot into the corner of the net! 1-0!

16' - The commentators are giving Bolton a lot of credit in this match, saying their defence hasn't been shaken much and saying they're not out of the match. They're not wrong but I just think we've dominated a lot so far.

17' - Petrov makes me nearly eat my words as he took a nice shot at Pepe Reina. The king of the goalies stays strong however.

19' - Suarez slices a pass through Gretar Steinsson to Stewart Downing who goes down the left flank and cuts a cross down the penalty box that Dirk Kuyt fails to control. That was a quality cross by Suarez!

20' - Suarez has the ball and is free going into the left side of the penalty box! Jaaskelainen stays low and saves well.

21' - Close! Dirk Kuyt just couldn't quite get to the end of a lovely Jordan Henderson cross. We're playing very well at the moment!

23' - Henderson chips a ball WAY over the Bolton defence and Suarez is through! He tries to chip Jaaskelainen but it's just over the bar. He should have done better.

25' - Muamba is taken off, he's walking okay but he doesn't look right. Mark Davies takes his place.

27' - There's a stoppage of as Martin Kelly needs treatment. There isn't any news on what happened to him.

29' - Martin Kelly is off as Martin Skrtel takes his place.Skrtel is playing right back which is odd. As long as he's better than he is at left back...

31' - Lucas crunches into a tackle that ignites a counter attack. What a lovely tackle, he's quite the player nowadays.

32' - Martin Kelly has a hamstring problem. Not good at his age. Muamba has no injury so it's a tactical substitution.

33' - I haven't actually said about the formation - it's 4-5-1 with Kuyt on the right and Henderson in the middle.

34' - There's a juggle for the ball in the penalty box and Kuyt takes an unclean shot that was easily saved.

36' - Foul to Bolton as Charlie Adam dived. I don't think he dived in a dirty way, he just extended his leg too far and fell. Hey ho.

37' - Sebastian Coates is in the stands which pretty much seals that he's been signed. I wonder why we haven't announced it? Apparently he has passed his medical and everything. He's a young 6'6 centre back, a great bit of potential.

38' - Mark Davies goes on a lovely run and cuts through a few Liverpool players. He connects a soft shot that is easily saved by Reina.

40' - Dirk Kuyt cuts to the left wing and hits a fine shot that just goes over the bar. Good effort.

41' - The commentators are praising Pepe Reina. I want to be on record here and say that Reina is by far the best signing Rafa Benitez ever gave us. He's a world class goalkeeper and I wouldn't choose anyone to take his place in the entire footballing world.

43' - Freekick on the edge of the penalty area - Adam whips in a lovely cross to Suarez and Steinsson handballs it. There's a big debate whether it's a penalty or a freekick, replays suggest the referee got it right.

45' - Jose Enrique makes a run to the left flank and Reo-Coker cuts the run and it goes for a goal kick. The fans think it was a foul but it was actually a good quality tackle by the Bolton player.

45+1' - There was only one minute added time and it's now half time. This is our best 45 minutes we've played so far this season and Suarez is just unstoppable at the moment. He scored and got us a penalty in the Sunderland but I think this overall 45 minutes is better than the one against Sunderland. This is an excellent Liverpool side at the moment.

46' - Suarez wobbles and goes down in the penalty box but the tackle was outside and seemed to connect. We move on.

49' - A lovely run from Suarez who passes to Henderson on the right who cuts it back in and doesn't connect properly. It was great movement then.

50' - Charlie Adam takes a shot that Steinsson blocks. Corner.

51' - GOAL! Martin Skrtel! Charlie Adam takes the corner and Skrtel just connects instantly and it's straight into the net! Excellent!

52' - Haha! Stastics say we don't win if Skrtel scores! Based on this performance I doubt it'll be the case today!

52' - GOAL! Charlie Adam scores with his weaker right foot! This is just excellent stuff today! I'm running out of exclamation marks!

54' - Kuyt heads just over the bar. We're just unstoppable at the moment.

55' - Suarez gets the ball in the penalty box and takes it around Jaaskelainen but hits the side net.

57' - Tuncay comes on for Chris Eagles. They need to do something Bolton we're flooring them at the moment.

59' - Possession is 70%/30% to Liverpool. I'm not surprised.

61' - Some great movement from Liverpool and Suarez was in loads of space, no one passes to him and he gets a bit angry. Rightfully so.

64' - Bolton have some difficult fixtures to come up and it's a shame from their perspective, they were on form before they came to Anfield.

66' - Lucas gives the ball away but then gets it back quite quickly. He has been a boss in the midfield today.

66' - Klasnic gets the ball in the Liverpool penalty area but two bodies drop to the floor to block his shot. The ball then gets cleared.

69' - Jose Enrique bombs down the left wing but passes the ball to an offside Suarez.

70' - The commentators are slamming a Liverpool title challenge and rightfully so. We're only three games in the Premier League after finishing 6th. It's silly to think we can bridge that in one year. A top 4 finish is definitely a possibility though.

72' - Liverpool are claiming a backpass but the referee ignores it. Video evidence shows it was definitely a backpass.

73' - Nine Liverpool players are around their penalty box, only Carragher was back at the halfway line. That's dominance.

74' - Suarez gets tackled in the box again but it does look like the referee was right when the ball was taken from his feet.

76' - Jordan Henderson and Luis Suarez come off for Maxi Rodriguez and Andy Carroll. Suarez is definitely man of the match, and Henderson was also impressive today.

78' - Downing whips in a sweet cross that unfortunately no one got to the end of. Brilliant stuff by the natural left winger.

80' - Carroll strikes a low shot wide. He didn't quite have it under control.

83' - In the last 10 minutes the possession has extended to 73%/27%. It's just been a dominant performance in every way.

85' - Maxi Rodriguez takes the ball off the last defender but it gets taken away from him quickly afterwards. Good movement from Rodriguez.

87' - Downing runs down the left flank and then to the edge of the left of the penalty box and takes a shot that goes wide.

89' - We dominate their final third again and Jose Enrique attempts a cross that whips across the penalty box. No one was there though.

90' - Two minutes of added time.

90' - Suarez looks absolutely deflated on the bench. He really shouldn't be happy, just because he didn't score! He was absolute dynamite today.

90+1' - GOAL! A rare mistake from Carragher gets Klasnic a goal at the end. No reaction from the ground at all. It's a shame Reina couldn't keep his clean sheet.

90+2' - Full time. A wonderful performance, easily the best performance of the season so far, and it was great to see two new signings in Adam and Henderson get their debut goals. Suarez was incredible today, just unstoppable. We're really on a roll and we're top of the league for at least tonight.

Thanks for reading my live feed today. You can like me on Facebook below. Have a good night.