Where Are They Now?
|
Best of 2002
|
Best New Artists
|
Best of 2003

|
My Guilty Pleasures
Best of 2004

|
My Favourite Riffs

|
Best of 2005

|
Underrated Artists

|
Best of 2006
My Favourite Albums

|
Best of 2007

|
Best Videos

|
Best of 2008

|
Most Important Artists
Best of 2009

|
100 Favourite Songs of the Decade

|

100 Most Important Songs of the Decade
Here we are, Part 15 of the Noughtie series. This is the beginning of the bigger listings, more important listings. I said the last two are the biggest, but there's a big five and a massive two in that five in honesty. This will be in two parts, and I'll post this today and tomorrow.
Here are in my opinion, the best twenty albums of the decade. It's a biased listing, so naturally the artists that you have seen a lot of in these Mixtapes and listings will be featured. I mean they are my favourite artists for a reason. There's only one rule here, and that is a one album per artist cap. So as great as all of Muse's albums were, only one is allowed on this list, the same applies to all the artists.
So let's count down from #20 to #11!
20. "Meds" by Placebo
Stand-out tracks: "Space Monkey", "Meds", "Infra-Red"
It was between "Meds" and "Sleeping With Ghosts" for me, although I'm sure traditional Placebo fans would disagree entirely. I think they're both brilliant albums but this one just pips it for me. Placebo are one of those very good artists that just aren't great, that's my humble opinion anyway, sorry for insulting any Placebo fans out there. But they're a consistent band who make consistently good music. My favourite track on the album is "Space Monkey" I don't know why, I just think it sounds really cool.
19. "The Marshall Mathers LP" by Eminem
Released: 23/5/00
Rating: **** stars
Stand-out tracks: "Kim", "Marshall Mathers" "The Way I Am"
This is definitely Eminem's best album, he really hit home with this. There was a lot of pressure on the guy, at the time he was quite new to the whole mainstream success thing and everyone wanted to know how he could follow up his previous album. Well he delivered very well with this. It's got arguably his most controversial song to date on here with "Kim", if you like it or not, it's a powerful message to his off and on wife and makes very hard hearing. I do love that song however, but can thoroughly understand why some people hate it. This album had some very good non-singled tracks on it, another good one is "Marshall Mathers" where he once again explains that he's just like everybody else and doesn't see himself as anything special. This is a fantastic rap album and if you have been thinking of what Eminem album to start with, get this one.
18. "Tenacious D" by Tenacious D
Released: 25/9/01
Rating: **** stars
Stand-out tracks: "Double Team", "Lee", "Tribute"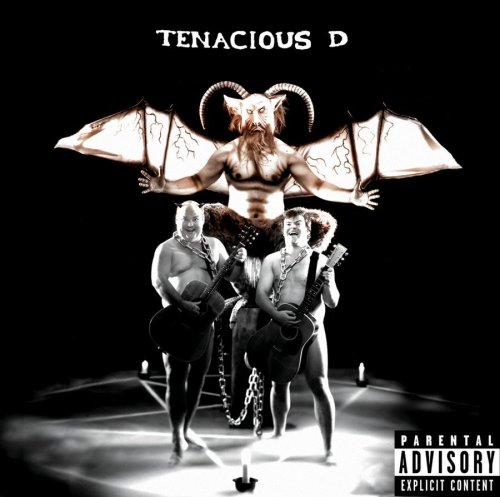 Tenacious D's debut album will probably not be beat by the duo, it was a gathering of their musical and comedic talents from the past merged into album form. The songs were short and funny, and their skits were hilarious. My favourite skit is probably "Inward Singing" but they're all good. This album is full of silly fun and it's quite hard to describe it in a short paragraph, other than if you've heard Jack Black and Kyle Gass' band in the past and like it, you'll like their albums. Great stuff.
17. "When Pure is Defiled" by Jerk
Released: 18/4/03
Rating: ****1/4 stars
I've mentioned this band a few times now, this is their first and only album and it's very good if you like industrial metal, Manson and NIN influenced style. It's a very similar sound to that of Marilyn Manson and they may be ripping him off slightly, but it's very good. It's one of the heaviest albums in my collection and it's good to play loud if you're in the mood. Their album tracks are very good, probably my favourite being "Wrong", and "My Friends All Lie". This is despite their lyrics being a bit petty and immature.
16. "if" by Mindless Self Indulgence
Released: 28/4/08
Rating: ****1/4 stars
Stand-out tracks: "Get It Up", "On It", "Mastermind"
It was difficult choosing an MSI album because they're all **** or ****1/4 stars in honesty but I've gone with this one. The reason being it's their most mature album. That being said this is a very immature band, but that's not insulting, they produce great music with silly lyrics intentionally, or at least that's the impression I get. I've said it before, but Mindless Self Indulgence are like no other band around today they have a very unique sound and make music in their own way. I have a lot of time for this band. The only snag is why the fuck Lyn-Z won't divorce her husband and take an interest in me. WHY!?!!
She'll learn eventually.
15. "Ima Robot" by "Ima Robot"
Released: 6/9/03
Rating: ****1/4 stars
Stand-out tracks: "Dirty Life", "Song #2", "Dynomite"
Ima Robot haven't really been talked about much on this site. They've appeared on the 2003 Mixtape with "Dynomite" but that's it. Let's clear something up. Ima Robot's self titled debut album, is a brilliant piece of work. It's catchy, it's punky, it sounds a treat. But... that was it. Ima Robot released a second album three years later. I downloaded it with excitement and it was a major bomb for me. It was just lifeless it felt. All the spunk, all the imagination from the first album just disappeared. I mean, they still have a decent fan base so I'm probably in the minority really. But their first album was just a firecracker, but it seems like they want to go into a different direction for their music. Each to their own I suppose.
14. "Drink Me" by QueenAdreena
Released: 24/6/02
Rating: ****1/4 stars
Stand-out tracks: "A Bed of Roses", "Pretty Like Drugs", "Under a Floorboard World"
QueenAdreena are a bit of an enigma in honesty, they're another one of those bands that have a relatively unique sound. KatieJane Garside's vocals can't be replicated, put it that way. This album, like a lot of KatieJane's songs, are full of emotions, from angry to sadness, she can probably do the whole spectrum. The music is noisy, or timid, or it can blend the two in the same song. It's just a brilliant album, I thoroughly enjoy listening to it.
13. "Death by Sexy" by The Eagles of Death Metal
Released: 11/4/06
Rating: ****1/4 stars
Stand-out tracks: "Solid Gold", "Don't Speak (I Came to Make a Bang)", "Chase the Devil"
This album is great, it's definitely EoDM's best. The first was okay, but it felt uneventful really, and the third hasn't been able to captivate on this beast of an album. I haven't chosen any of the singles as a stand out track, I mean they do stand out but I really enjoy those three tracks there more than their singles. You may have heard "Don't Speak" before, if you paid attention to any Nike adverts a good two or three years ago. It's a brilliant advert, it's below if you haven't. Anyway, this album is full of great tracks and Jesse Hughes' vocals are great.
12. "An Education in Rebellion" by The Union Underground
Released: 18/7/00
Rating: ****1/4 stars
Stand-out tracks: "Turn Me On Mr. Deadman" "South Texas Deathride", "Killing the Fly"
It's such a shame this band disbanded after one full album. But I've talked about that a few times already, there's no need to do it again. An Education in Rebellion was one of the best debut albums I've ever heard, and it still rocks hard today, I listened to it about a week ago. Man, this band had so much talent, it was a such a good band, the only thing I dislike really are the many references to drug use, but then again it's the norm nowadays, unfortunately. I really think you should give this band a go if you like the metal bands of the early Noughties, I think they were the best of the influx around then.
11. "Hot Action Cop" by Hot Action Cop
Released: 4/3/03
Rating: ****1/4 stars
Stand-out tracks: "Doom Boom", "Fever for the Flava", "In a Little While"
Hot Action Cop's debut funk/rap/rock album is a real treat. It's got a great sound, mixing so many different genres, if I were to put it to two band influences it'd be "Red Hot Chili Peppers" and "The Bloodhound Gang". Their lyrics are very dirty minded yet quite funny, they're very similar to Bloodhound Gang actually the more I think about it. Yet, they can do nice songs when they want to, a great example is "In a Little While" which is a really nice way to end a hard rock album. It's a very good album and one of my favourites of the decade.
So there's part 1 of this listing. Part 2 will be up tomorrow, where I'll countdown my favourite 10 albums of the decade. See you then.