I covered this match live. Here are my unedited thoughts of the match.
Welcome back to another live thoughts blog from myself. We take on Tottenham Hotspur today, our second away fixture in a row, and we're hoping that we can make up for the defeat against Stoke last week. As I said last week, I believe we played very well against Stoke but they were world class in defence. I'm hoping for a similar performance, but with the goals today. The Spurs are not as good in defence as Stoke on the whole anyway, so fingers crossed we can get under their skin and get our goal(s).
Here are the teams:
Tottenham: Friedel, Walker, Kaboul, King, Assou-Ekotto, Kranjcar, Parker, Modric, Bale, Adebayor, Defoe. Subs: Cudicini, Pavlyuchenko, Van der Vaart, Giovani, Bassong, Corluka, Livermore.
It's not going to be an easy time to dissect but we definitely can do it. Adebayor and Defoe are both clinical on their day and they've both scored recently. Their weakness is their defence, if we can cause a bit of mayhem there we can score. We have to be careful though because they are very strong in attack. Thankfully they're not in form at the moment, but let's not give them the incentive to start a surge today.
Liverpool: Reina, Skrtel, Enrique, Agger, Carragher, Lucas, Downing, Adam, Henderson, Suarez, Carroll. Subs: Doni, Maxi, Coates, Kuyt, Spearing, Bellamy, Robinson.
The diagram below is unlikely as I reckon that Carragher will stay in the centre and Skrtel will move to the right but we'll see. So one change, Carroll in and Kuyt out. Interesting. It's got to be a tactical decision, surely. Carroll, as much as I'm not as worried as some about his form, still hasn't been as effective as Kuyt so far this season. But his height and presence around their box has to be a factor. With Downing and Adam whipping balls from both the flanks and the centre of midfield, and the link-up from Suarez, Carroll can be, on his day, deadly. Let's hope today is that day.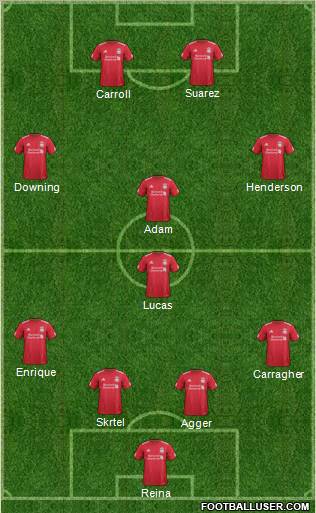 2' - Adebayor! Close. Straight from the off Tottenham take control.
4' - They've really started well Spurs. It's not good at the moment for Liverpool.
5' - Spurs have won four out of the last six games against us. Concerning statistics.
6' - GOAL! Luca Modric! An absolute belter. Some brilliant passing, from Gareth Bale who whips in a cross from the left to the outside of the box to Defoe, who sets up Modric perfectly who slams the ball from a good 20 yards into the top right corner. One of the best goals of the season so far.
7' - They've just been all over us so far Spurs. Deservedly in the lead. Oozing class at the moment.
9' - Agger is down at the moment. Hopefully he's okay. We'll see soon enough.
10' - Agger has come back on thankfully.
11' - Charlie Adam is given a yellow card, a tackle on Luca Modric. He did vent his frustrations out on the ref, which probably cemented the card.
13' - Awful. Just awful. Spurs should have scored. Skrtel is lost, Bale takes the vall off him with ease and they just dominate our defence, with Defoe and Modric taking shots. Thanksfully we clear it.
17' - GOAL! NO! Offside! The flag was raised for Suarez' goal. Carroll prods the ball into the penalty box and it ends up with Suarez who clips it round Friedel, but Suarez was offside at the time. Gutted.
21' - Adebayor... over the bar. Some good movement from Tottenham ends in Adebayor taking his chances from the outside of the box but he couldn't keep his shot down.
22' - Free kick from Adam finds Skrtel towards the right post but he was offside.
23' - Yellow card for Adebayor for a tackle on Carroll. He's done a few fouls in the match and the build of all the fouls earned him the card.
25' - Agger can't continue, he's not right. He's going to get subbed.
26' - Liverpool Sub: Sebastian Coates comes on for his debut, replacing Daniel Agger.
27' - RED CARD - Charlie Adam gets a second yellow. He sticks his leg out at Scott Parker. It didn't look intentional as he was concentrating on the ball in the air, but it was dangerous. It's hard to say if its the right decision as it was unintentional. Free kick for Spurs.
29' - After the delay the kick is taken and it hits our wall. This is looking extremely bleak for us, a goal down, a man down and Agger off injured. Lets hope Coates is ready.
32' - Not much to report at the moment, Spurs have lost possession a bit recently, especially in comparison to earlier in the match.
33' - Free kick in a VERY dangerous position. Enrique takes Defoe down a few yards from the penalty area, in the centre of the pitch.
34' - Bale takes it but it goes nowhere.
35' - Another yellow card for us. Skrtel this time. Bale storms down the left flank and Skrtel can't keep up with him, so he blocks his path. Not good at all.
37' - For probably the fifth time so far, we have the ball, can't penetrate forward and end up passing the ball back all the way to Reina. It's the story of the match so far for us, we are just the second best team on the pitch on all fronts.
39' - ANOTHER yellow for Liverpool. Adebayor vs Coates. Coates tackles Adebayor from behind and could have potentially got a red for that. It wasn't dangerous, but a tackle from behind isn't often tolerated nowadays.
40' - I say it wasn't dangerous but Adebayor has had to take a time out. Another free kick in a dangerous area, it goes for a corner.
41' - Another corner. Kaboul misfires but it gets to Defoe, who takes a swing that we clear back for a corner.
42' - Kaboul again! And it's wide.
43' - We get a bit of possession and Suarez gets it on the right and whips the ball to long for Carroll and it goes for a goal kick.
45' - Four minutes of added time is announced.
45+1' - A lovely pass from Modric to Kyle Walker cuts out three defenders and Walker dances into our box from the right and earns a corner. A beautiful bit of football from Modric.
45+3' - Coates hoofs the ball forward to clear it and it goes for a goal kick for Tottenham. He's definitely not ready for the first team. He's looked incredibly nervous and inexperienced. I'm surprised as I thought he would be.
45'+4' - A yellow card for Suarez and he's not calming down! He's still having a go! Thankfully it's gone for half time.
My assessment? We've been pretty damn awful. All over the pitch we've been dominated. We haven't had luck, that's fair, but we deserve to be losing based on this performance. We've been awful. Has the referee waved his cards a bit too much? Probably. But it's no justification at all, we've been bad. The good news? We're only 1-0 down. The bad news is that we need to improve dramatically in the second half, and we're down a player with Adam off, and Coates really doesn't look ready. Let's hope we can get something out of this match. I'm usually the optimist, but it doesn't look good, even from me.
45' - Tottenham Sub: - Kranjcar comes off for Van der Vaart.
45'- Defoe! Just past the post. That was great football from Spurs from Adebayor to Defoe in the end. It doesn't look like things are going to change soon.
48' - Thankfully things have calmed down a bit, we just need a bit of luck, it's something we haven't had so far.
50' - Suarez chips the ball to Carroll in the box and Carroll appeals about a tug in the box. It doesn't look like it was anything worth claiming a penalty for. But we're playing a little better, emphasis on the word little.
53' - Bale takes a shot and its wide. We are playing a little better though as I said.
55' - Free kick for Tottenham around the right wing area. Enrique brought down Walker. Nothing comes of it thankfully. The commentators are talking about maybe Bellamy coming on, I do agree with that. I think he could be a nuisance for Spurs.
58' - Adebayor wasted a fabulous chance. Skrtel loses the ball in a dangerous place and Defoe and Adebayor have plenty of time to score but Adebayor thankfully for us wastes it. Skrtel has had an awful game today, he's not a right back. Carragher needs to swallow his pride and play there I say. It's frustrating that we're wasting Skrtel out of position, and Bale has wiped the floor with him today.
60' - Free kick for Liverpool in a dangerous area! Finally. We have to make the most of this.
61' - Suarez takes it and it was poor. He tries to chip the wall and it's just well over.
62' - RED CARD - Skrtel is off. This is just pathetic. Two of our players are now off. Skrtel is late tackling Bale and brings him down. I think it was rash but not deserving of a yellow. It's the story of his game though.
64' - Downing takes a shot from way out and it's comfortably saved by Friedel.
65' - GOAL - Defoe. Our defence was ripped apart and Defoe turns out Enrique and slots the ball into the bottom right corner. Simple for them. You could easily see the influence of losing two players there as we just had no one back.
67' - GOAL - Adebayor. They just take a few shots at us and Reina does his best but there's just not enough players back to deal with the deflections, Adebayor just slots it home after the third shot.
69' - Liverpool Subs - Luis Suarez and Stewart Downing are off for Craig Bellamy and Jay Spearing. We're probably saving their legs as we're not going to get back into this really are we?
70' - Hand ball from Scott Parker on the left wing. Free kick to us.
71' - Bellamy takes it and it goes nowhere.
72' - Tottenham are just playing with us now. They're passing the ball around and the fans are cheering each pass. Always a great feeling when it's your team doing it but when it's the opposition it really grinds on you.
74' - Free kick to us in our box as Reina gets fouled.
77' - It's just time wasting all round now, the game is pretty much over.
80' - The positives as the commentators are saying is that we were much lower in the table at this point last year, and that there's still a long way to go. Very true.
82' - Spurs are piling our box with their players, thankfully we defend well enough.
82' - Tottenham Subs: Jermain Defoe and Ledley King are off for Geovanni dos Santos and Sebastian Bassong. Both teams have used all their subs now.
85' - We break through slowly and Lucas and Spearing exchange a few nice passes in the centre of the pitch. Eventually Spearing takes a wild shot at goal but it was nice to see us just juggling the ball a little bit at this stage of the game.
88' - Gareth Bale just takes a shot from around 30 yards out and its way over the bar.
89' - Shots on target - Spurs 14, Liverpool 2. Says it all really.
90' - Van der Vaart... good save by Reina. He tries to chip Reina but he saves it well.
90' - Three minutes of added time.
90+1' - Carragher tackles nicely against Adebayor and it's gone for a corner.
90+2' - GOAL! Adebayor. It's just simple really, he is given the ball in the box by Bale and he rockets it into the top of the net. There's nothing we could have done about that with 9 men.
90+3' - Full time.
The full time analysis is that this was an awful game by us. Yes, decisions went against us that were debatable, yes we lost Agger early on and had Coates who is most certainly not ready yet to take his place, and yes, we did have two red cards and were down to 9 men for a good half hour. But that doesn't justify anything. We were bad. Really bad. But the good news is that we have a Carling Cup tie and two home games to look forward to. We need to win these three games. We had two difficult away games and we performed badly today. But the worst is over... for the time being. Unless we continue to screw up anyway! But let's not go down that road, let's be optimistic, this is hopefully a blip, and let's show our class against Brighton on Wednesday, before taking on Wolves on the weekend. That's it from me today, have a good day.