Where Are They Now?
|
Best of 2002
|
Best New Artists
|
Best of 2003

|
My Guilty Pleasures
Best of 2004

|
My Favourite Riffs

|
Best of 2005

|
Underrated Artists

|
Best of 2006
My Favourite Albums

|
Best of 2007

|
Best Videos

|
Best of 2008

|
Most Important Artists
Best of 2009

|
100 Favourite Songs of the Decade

|

100 Most Important Songs of the Decade
To view part 1, click
here
.
Welcome to the second half of this large listing. Part 6 out of 10 to be exact. Today I'll countdown my favourite singles from the last decade, from #50 to #41. So let's get down to't.
#50. "Killing the Fly" – The Union Underground
Released: Unknown, 2001
Album: An Education in Rebellion
It's really frustrating; I can't find a release date anywhere. It simply says on Wikipedia that the track was released as a single in 2001. Hey ho.
This song is one of the best tracks this band did on their only album. It's slowler than their usual stuff, it's quite a serious song and it has some really cool lyrics as well. I thoroughly love this song and always have, I was quite surprised to hear it got released as a single as it isn't really the type of song that you'd expect to be released on its own. It charted relatively well in America mind!
#49. "Voices" – Disturbed
Released: 3/7/00
Album: The Sickness
After the success of "Down with the Sickness", Disturbed released this song as a single. It was a fantastic follow up and it's also the first track on the album. David Draiman's very unique vocals stand out very well in the chorus. The video is good too, the song talk about insanity, a theme in some Disturbed songs. It just sounds really good and I love listening to this track, it's one of the best off the album.
#48. "Slam" – Pendulum
Released: 19/9/05
Album: Hold Your Colour
Listings: Best Videos
The video includes the prelude from the album too. Together the track "Slam" is brilliant. It's easily one of the best dance songs of the decade, the video, which was highlighted in my Best Videos listing, completes the song for me. You just want to dance to this track, even if you can't, just get up and get moving. It really does make you feel that way and it's just a fantastic sounding song. I love it.
#47. "Bonkers" – Dizzee Rascal
Released: 18/5/09
Album: Tongue 'n' Cheek
I know I've said it before, but 2009 was an absolutely shite year. But this song was a huge highlight, this had a lot of airplay and I always loved listening to it. After "Fix Up, Look Sharp", I didn't like a great deal of Dizzee Rascal, I respected him as an artist but I didn't think much of his music. Then he came out with this and it's just a killer track. His mix of grime rap and house dance really paid off, it sounds great and it also was a huge hit, getting him to #1. Man, that bass just sounds fucking fantastic.
#46. "Another Way to Die" – Jack White and Alicia Keys
Released: 30/9/08
Album: Quantum of Solace Soundtrack
I'm not a huge Bond movie fan, and I've rarely liked the songs they tend to choose as the theme for the films. But this was great. Jack White is a fantastic guitarist and a decent vocalist on his own. But mixing Alicia Keys was a gamble. They have very different styles, the rock and R&B genres being the beginning. But they meshed perfectly for this song. Jack White's guitars and Alicia Keys, though not my genre of music, is a vocalist that I respect. The song was a success, at least I think so.
#45. "Shinobi vs Dragon Ninja" – Lostprophets
Released: 19/11/01
Album: Thefakesoundofprogress
Listings: Best Riffs
This is by far the best song Lostprophets have ever done, in my opinion. I've never been that big on their stuff but they do a song once in a while that catches my eye. But nothing is on this one, that guitar riff is just fantastic. The riff makes the song, because without the riff it's very similar to their other songs. So all together it's a very good track, but the riff is the main reason why, it's just so kick ass.
#44. "Red and Black" – Kill Kenada
Released: 10/11/03
Album: The Pink Album
As I've said before, not many people have heard of Kill Kenada, if you like your slightly odd and eccentric bands like Sonic Youth and The Pixies, then give these a listen. The video is right there, just click it! Anyway, Red and Black is probably their most popular song and it's probably the best too. It has about 3 or 4 different parts to the track, the song just transcends into a different sound over and over again and it sounds fucking fantastic. I really like this track and their other stuff is okay as well.
#43. "Chop Suey!" – System of a Down
Released: 20/11/01
Album: Toxicity
From an unknown track to a worldwide huge metal anthem, that will inevitably appear on the unbiased listing too. Chop Suey! is just classic track now, nearly 10 years old, every metal fan has heard this song. It's definitely SOAD's biggest hit and has been parodied very well by Richard Cheese and Tenacious D. It's quick vocals that at first glance sound like gibberish, and the slowed down chorus, the opposites in tempo, a common theme in some SOAD songs, just make it stand out. It's just a mega hit, and doesn't need any justification from me with regards to why it's so popular.
#42. "Baby Fratelli" – The Fratellis
Released: 12/3/07
Album: Costello Music
When The Fratellis were on a bit of a high (I maintain they should stay there but unfortunately interest in the band has waned) this was chosen to appear on the soundtrack for "Hot Fuzz", the film with Simon Pegg and Nick Frost (fantastic film by the way) so it got a great amount of airplay upon its release. It's a great song, one of the better songs on the great debut album by the band. I really wish people would give The Fratellis the respect I believe they deserve because they're a fantastic band.
#41. "We Used to Be Friends" – The Dandy Warhols
Released: 24/7/03
Album: Welcome to the Monkey House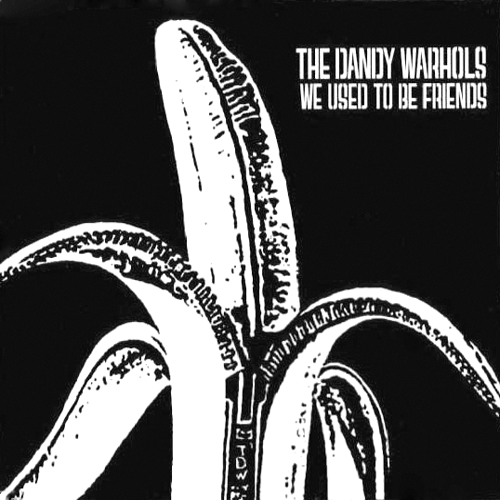 The Dandy Warhols are a funny band; they once in a while appear out of nowhere and release a decently successful song, then disappear again. Nothing will beat the popularity of "Bohemian Like You" but while I like that song, I prefer this track. I like the added electronica into the track, it works really well, and the hallowing "ah-ahh-ah-ah" hook at the end of the chorus is fantastic too. This song was used in a few commercials as well actually.